Professional and practical
We convey theoretical knowledge and practical skills
Science thrives on exchange and on passing on and sharing acquired knowledge. As a non-profit research institution, the transfer of knowledge and technology from research to practice is our central mission. That's why we are happy to share our expertise with your company's specialists and managers in demonstrations, training courses and seminars. Our goal is to promote your company's innovative power and help you stay competitive. In doing so, we offer various formats.
Introduction of new application systems
We impart standardized knowledge and skills on new computer science application systems. We explain circumstance, show examples, answer questions and give tips.
Workshops on state-of-the-art technologies
Together with you, we find solutions to a specific problem or defined issue in practical workshop exercises.
Current methods and tools
We offer support in finding and getting to know the most suitable among the multitude of new computer science methods and tools for you and your concerns.
Whether for trades, associations or innovation management, business developers or executives, whether events with the Chamber of Commerce and Industry or with regional networks – the FZI imparts cutting-edge knowledge and provides training in its entire spectrum of ICT application research.
"AI on-site" workshop of the de:hub Karlsruhe
Upon request, we support companies individually with their projects on the topic of artificial intelligence via the de:hub Karlsruhe. After discussing the project and defining the associated expectations, the de:hub establishes contact with suitable partners from the AI network. If interested, it organizes a (virtual) workshop with the company and the experts, in which solutions are developed together. The main target group for this format are small and medium-sized enterprises.
Training courses on ROS (Robot Operating System)
ROS (Robot Operating System) is an open-source framework specifically for robots. It consists of a set of software packages, libraries and tools that facilitate the development of robotic applications and particularly encapsulate frequently used functionalities for reuse. As a ROS Industrial member, we actively develop and use components in the ROS framework, provide training upon request, and translate the latest research into real applications.
Innovation workshops aim to generate fresh impetus and ideas and to deal with new technologies. With the help of creativity techniques, we approach specific questions and offer input on the respective topic.
In the area of artificial intelligence, we also offer a standardized introductory workshop together with DIZ I Digital Innovation Center to deal with AI methods and applications in general and subsequently with the possibilities in the respective company.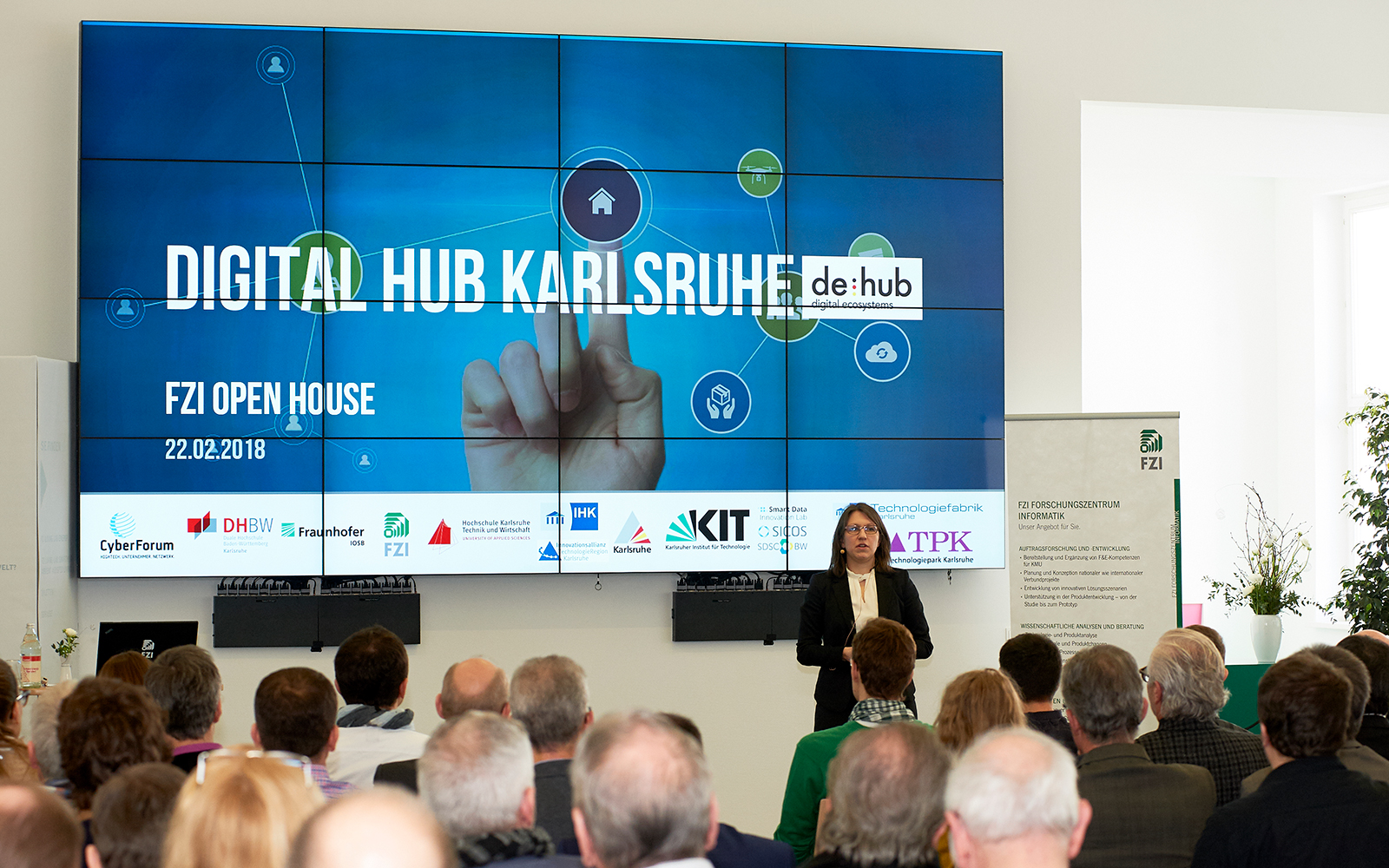 In a QuickCheck, experts examine individual, company-specific questions on new technologies and their use. QuickChecks are a free, customized offer – especially to companies and research institutions with a focus on IT security in the application of AI technologies as well as the maturity of the use of AI methods in the company, like within the framework of the Competence Center for AI Engineering CC-KING. While safeguarding the relevant company interests, specific results of the analyses are only made available to the respective clients. General findings may be published and thus contribute to the development of further expertise.
The Digital Hub Karlsruhe workshop showed us how digitization can be approached in the future with existing products or via new business areas. We were amazed by the concrete ideas of the AI experts and the implementation and solution-oriented approach. This was the right initial spark for our digitization project. Many thanks to the Digital Hub Karlsruhe!

Any questions?
Or are you interested in training or a course?