When you access our website, the following information about you is automatically stored as server log files:
Your web browser
Your operating system
Your IP address and port
The accessed web page or components thereof
The website from which you visit us
The access time
This data is collected on the basis of Article 6 (1) (f) GDPR and the purpose of the data collection is the operation, maintenance and protection of our systems. By default, the data accrues every time a connection is established with a web server on the Internet. If an error occurs while using our website or if we suspect an attack or misuse, this data is used to reproduce the scenario that occurred. Your IP address is additionally used to determine the number of visitors to our website on a monthly basis. All data collected in this way is stored for a period of six months and then deleted.
To subscribe to our newsletter, we only need your email address – all other information is voluntary. We use the "double opt-in procedure" for registration to our newsletter. This means that after initially registering, you will receive an email from us with a confirmation link. Only after clicking this link, you are fully registered for our newsletter. This procedure serves to ensure that no third party abuses your email address. By sending the registration form, you consent to the transmission of the entered data (Art. 6(1)(a) GDPR) for the purpose of sending the activation link. By clicking on the activation link, you consent to the processing of your data (Article 6(1)(a) GDPR) to receive the FZI's email newsletter.
If the confirmation link is not activated within 30 days or if you unsubscribe from our newsletter, all data collected during registration will be deleted.
Cookies and analysis tools
When you visit our site, WordPress sets what is known as a session cookie, which is automatically deleted after the end of your visit or browser session. This is a small text file that is stored on your computer and saved by your browser. It is used for WordPress to remember your language setting.
Cookie-based data processing is carried out on the basis of Art. 6 (1) (1) (f) GDPR to protect our legitimate interests. Our legitimate interests here lie in particular in being able to provide you with a technically optimized website that is user-friendly and tailored to your needs, as well as to ensure the security of our systems.
The FZI does not otherwise use any software on its website to analyze the usage behaviour of website visitors (e.g. Google Analytics).
When you activate embedded videos on our website, a connection to YouTube's servers is established and a data transfer is started. We have no influence on the scope and content of the data that is transmitted to YouTube and possibly other YouTube partners by activating the plugin. Among other things, the YouTube server is told which of our pages you have visited. According to YouTube, this information is used, among other things, to collect video statistics, improve the user experience, and prevent abusive behaviour. YouTube uses cookies to collect information about user behaviour. The cookies remain on your terminal device until you delete them. You can prevent YouTube from storing cookies by making the appropriate settings in your browser software.
If you are logged into your YouTube account, you enable YouTube to associate your browsing behaviour directly with your personal profile. You can prevent this by logging out of your YouTube account before activating the play button.
The integration of YouTube videos is implemented in the "Privacy Mode" of the Elementor page builder, i.e. as long as the video is not clicked, no data is transmitted to YouTube. Accordingly, videos are only played if you have given your consent by clicking on them and the data transfer is thus based on your consent. For more information on the handling of user data, please refer to YouTube's privacy policy at: https://www.google.de/intl/de/policies/privacy.
To protect your privacy rights, the FZI does not embed social media feeds on its website. Accordingly, no information about you is transmitted to third parties (such as Twitter or Facebook) when you use our website. The buttons in the footer of our website are links to our social media sites and you must actively click them to be redirected there.
When you access our application portal, you will be redirected to the site of our software partner Haufe-umantis AG.
By registering in the application portal, you provide the company with your personal data about a specific application for the purpose of a job search. Your data is also stored and processed on the systems of our software partner Haufe-umantis AG. The FZI and the software partner Haufe-umantis AG have taken the necessary organizational and technical measures to ensure the confidentiality of your application.
All employees of the HR department as well as our software partner are obliged to maintain confidentiality about personal data within the scope of their employment contract. Thanks to an automatically activated 128-bit encryption, a secure transmission of your data is ensured. Data processing takes into account the general standards for data security in accordance with the current state of the art.
During the application process, the usual correspondence data such as postal address, email address and telephone numbers are stored in the applicant database in addition to the title, last name and first name. In addition, application documents such as a letter of motivation, curriculum vitae, vocational, educational and training qualifications, and job references are recorded.
This data will only be stored, evaluated, processed or forwarded internally as part of your application. It is only accessible to employees of the Human Resources Department and the persons responsible for selection at the FZI. In the case of unsolicited applications, we decide on a case-by-case basis for which of our units your application is relevant and make it available to the heads of the relevant organizational units. Under no circumstances will your data be passed on to companies or persons outside the FZI or used for other purposes. The processing of your data is thus based on Art. 6 (1) (b) GDPR and Section 26 (1) (1) BDSG
The data may be processed for statistical purposes. It is not possible to draw any conclusions about individual persons. he legal basis for this is our legitimate interest pursuant to Art. 6 (1) (f) GDPR.
If you start a job at the FZI, your personal data and contact details will be placed in your personnel file.
If you have applied but received a negative response, your details will be stored for around 3 months after the application process has been completed and then deleted (profile and application). The deletion of the data is not communicated.
When you apply, you can give us your consent to store your application in a talent pool in case of rejection, in order to send you interesting job offers beyond the specific vacancy. If you are no longer interested, you can delete your data (profile and application) at any time. If your application is assigned to a talent pool, the data will remain stored for 6 months. This is followed by an inquiry by email as to whether you are still interested in working at the FZI. Unless the entry is then renewed for another 6 months, it will be deleted. In this case, your data will be processed on the basis of your consent in accordance with Art. 6 (1) (a) GDPR and Section 26 (2) (1) BDSG
When you register for one of our events, acceptance of our general terms and conditions for events creates a contract with us, for which we need your first and last name. After submitting the registration form, you will receive an email in which your data is listed again for you to check – for this we need your email address. To be able to invoice you for the participation fee, we also require the name and address of your company or your private address if the invoice is to be sent to you privately. We also collect your telephone number so that we can contact you in case of queries or last-minute changes to the event planning. The data collection is thus based on Art. 6 (1) (b) GDPR. After the end of the event for which you have registered, all data collected in this way will be deleted.
If the event is conducted virtually, further personal data of yours will be processed. In the following, we would like to inform you about what data is involved: The FZI currently uses the following video conferencing tools, which are used for different purposes.
Big Blue Button
Adobe Connect
DFNWebConf
Skype for Business
If other third-party tools are used, this will be indicated separately. Personal data that is generated during your participation in a virtual event, in particular audio and video data, the displayed user name, text messages via the chat function if applicable, and technical data (IP address, date and time of the request, time zone, access status/HTTP status code, amount of data transferred, the website from which the request came, browser including language and version, operating system, user's terminal device used including MAC address), is also processed for the purpose of organizing and conducting the event. The legal basis for this is Art. 6 (1) (f) GDPR. The data will be deleted after the event if it was stored locally. Contributions at virtual events can also be processed and recorded as audio and video recordings and processed for public relations purposes on the organizer's website, on social media platforms in print publications, and in memos and press releases. However, this applies exclusively to the speakers with whom a user agreement exists with regard to the content. The legal basis for this is Art. 6 (1) (b) GDPR.
Virtual tour of the FZI House of Living Labs
If you participate in our virtual HoLL tour, you will be redirected to the page of our service provider VR-EASY GmbH.
The following data of yours will be processed:
web server logs incl. IP-Adresse
statistical data such as device class and monitor resolution as well as
an anonymized media process through the tour
In addition to providing the service, this data may be used for statistical purposes. It is not possible to draw any conclusions about individual persons. he legal basis for this is our legitimate interest pursuant to Art. 6 (1) (f) GDPR.
For more information about VR-EASY's data processing, you can get information from our service provider directly at https://vr-easy.com/platform/datenschutzerklaerung_de.html.
Data processing relating to FZI test vehicles
Our test vehicles are equipped with various sensors including radar, lidar, GPS sensors and video cameras. The surroundings/environment of the test vehicle can be recorded by video cameras, stored for further analysis, and may be combined with data from other sensors.
The processing of video and sensor data is necessary to perceive road users and traffic scenarios as well as interpret them and react accordingly. The recordings of the sensor data are used in order to research and improve algorithms of assisted, connected, semi-automated and automated driving functionalities.
We are not interested in identifying people and our system is not configured for that purpose because it is not necessary for the connected, semi-automated and autonomous driving functions. All traffic objects are categorized as car, motorcycle, pedestrian, etc. Nonetheless, the video files might include images of people, license plates or other personal data.
The legal basis for processing the video files of the environment of the text vehicles is our legitimate interest, pursuant to Art. 6 (1) lit. f GDPR (General Data Protection Regulation).
The legitimate interest of the FZI for processing those video recordings derives from the interest of operating the test vehicles and for researching connected, semi-automated and autonomous driving functionalities. The data processed by the test vehicles will be used for researching algorithms for various functionalities of connected, semi-automated and autonomous driving.
We store your personal data solely as long as required for the respective purpose. If data is processed for various/more than one purposes, the data will be deleted or stored in a form that cannot be directly traced back to you as soon as the last stated purpose is fulfilled.
We secure your data using state-of-the-art technology.
In the context of research projects, we can transmit data to research partners. The transmission underlies strict purpose limitations. The data will not be used by the partners to identify people.
If data is processed outside the EU, the FZI is using EU-standard contracts with appropriate technical and organizational measures to ensure that personal data is processed according to European data protection standards.
The test vehicles are labeled with the following or equivalent signs on the vehicles: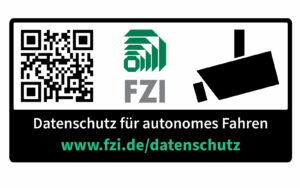 If you contact us via the e-mail addresses provided by the contact persons, we will process your e-mail address and the data provided in your e-mail in order to answer and process your inquiry. This is done on the basis of your consent. You can revoke this at any time.
As a data subject of a data collection, you have comprehensive rights (Art. 15-23 GDPR):
The right of access to information about your data stored by us at any time
The right to request the restriction of the processing of your data or to object to the processing
The right to request the blocking or erasure of your data
The right to have your data rectified
The right to receive your data stored by us in a machine-readable format ("data portability")
If you wish to assert your rights,
simply send us an email
to the above contact address. In addition, you, of course, have the right at any time to report any suspected violation of data protection law to the competent supervisory authority.