FZI Living Lab Service Robotics
Next-generation robots – at home, in production, in outer space
Innovative robot systems are developed and operated in the FZI Living Lab Service Robotics. This involves working with robust lightweight designs, specialized power and control electronics components, and extensive software libraries. This results in a high degree of autonomy and flexibility in the service robots of the FZI.
The FZI is developing new basic technologies for environment interpretation, robot control, grasp planning and human-robot interaction, which are used in various FZI-wide application scenarios. The robots not only support and relieve humans in routine tasks, but also take on strenuous or dangerous work. In addition to classic robots for industrial manufacturing and logistics, special systems are also being developed and used to function perfectly in nursing, in space or in mines. State-of-the-art technologies and approaches are combined, implemented and applied for this purpose.
The focus of our research is on the following topics:
Artificial intelligence for interpretation and decision-making such as Mask R-CNN and Generative Adversarial Networks (GANs).
Force-based learning gripping and joining strategies
Safe Human-Robot Interaction and Collaboration (MRI/MRK) for Production or Care
Safely navigate large, dynamic environments thanks to multi-level planners and robust 2D/3D SLAM
Modular, reusable software based on the "Robot Operating System" framework (ROS/ROS 2)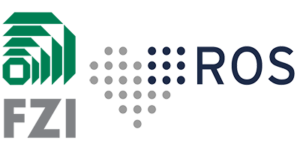 Various manipulators, mobile platforms as well as numerous sensor systems and extensive software libraries are available in the FZI Living Lab Service Robotics. This enables the control of different actuator systems and the evaluation of complex sensor data for experiments, demonstrator and prototype development.
The FZI has extensive expertise on the widely used open source framework "Robot Operating System" (ROS and ROS 2). This includes adapted or specially developed ROS drivers as well as planning and control components. In addition, the latest approaches of Open Source Software (OSS) from the fields of Artificial Intelligence, Vision and SLAM are always integrated into concrete applications in the FZI Living Lab Service Robotics. The FZI MotionPipeline, which has been developed over many years, as well as the FZI NavigationPipeline enable even challenging and novel applications to be successfully implemented in the shortest possible time. In addition, numerous application scenarios are available to test and further develop new algorithms or prototypes under the most realistic conditions possible in a safe environment.
Existing robotics hardware on site and in use:
Manipulators
Lightweight robots from Universal Robots, FRANKA, Pilz, Doosan, Schunk
Industrial robots from KUKA, FANUC
Mobile platforms
Wheel-driven platforms with different types of actuation
Mobile platforms with manipulators
Walking robots (LAURON, ANYmal, Spot)
Grippers
2, 3, 5 finger grippers
Jaw grippers with force sensor technology
MRK grippers
Suction grippers
Other
Motion capturing systems
Sensor systems 1-line/multi-line LiDaR
Stereo camera systems
Flying drones, including attachments
3D printers (FFF/FDM/SLA)
ROS-Applications at the FZI