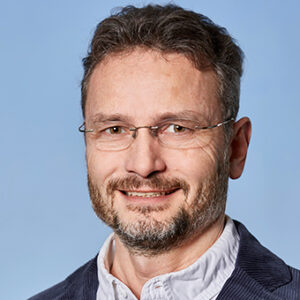 Director
Embedded Systems and Sensors Engineering
Career
In the 1990s, Prof. Dr.-Ing. Eric Sax worked at the FZI before moving to the Daimler Group. There he held various management positions at the subsidiary MBtech, where he helped to develop hardware-in-the-loop at Mercedes, and was most recently responsible for electrical/electronic development at Daimler Busesworldwide.
Eric Sax is now head of the Institute for Information Processing Technology (ITIV) at the Karlsruhe Institute of Technology (KIT). His goals at FZI include the further establishment of the integrated design process for embedded systems. The experience gained in the automotive industry and other pioneering sectors needs to be tailored to small and medium-sized enterprises and smaller partners. Typical applications are all those that save energy and guarantee safety.
I see 20223 as a major challenge, especially for medium-sized companies in the mobility industry. But in this crisis there is also the opportunity to reposition yourself, especially with us as a research partner, and to emerge stronger.
Head of the Institute for Information Processing Technology ITIV, Karlsruhe Institute of Technology (KIT)
Program Director of the part-time Master Program Mobility Systems Engineering & Management (MSEM) at the HECTOR School

Collegial management of the

Laboratory for Applied Machine Learning Algorithms (LAMA)