Prof. Dr.-Ing. Dr. h. c. Stefan Jähnichen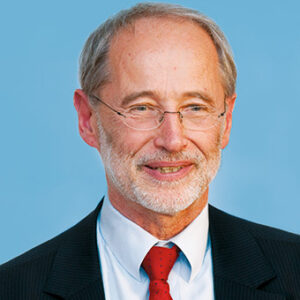 Prof. Dr.-Ing. Dr. h. c. Stefan Jähnichen
Scientific Director
Innovation, Strategy and Transfer
Career
Prof. Dr.-Ing. Dr. h.c. Stefan Jähnichen has been involved as director at the FZI since December 2012. He brings an extensive network of contacts to the FZI's Berlin branch: The computer scientist headed the Fraunhofer Institute for Computer Architecture and Software Technology (FIRST) for almost 15 years. During this time, he also took on numerous honorary positions, including president of the Gesellschaft für Informatik e.V. (GI). He currently chairs the Informatics Panel of the European Research Council (ERC).
Stefan Jähnichen's current research interests are in the development of mobile, IT-supported systems that intend to modernize knowledge transfer with novel concepts for individual learning (blended learning), and around modeling and simulation of complex embedded systems.
The coming year will see a huge leap in the use of artificial intelligence methods in a wide variety of application fields. The FZI is well prepared for the resulting challenges and will be an excellent technology partner especially for small and medium-sized enterprises.
Prof. Dr.-Ing. Dr. h. c. Stefan Jähnichen
Chairman of the European Activities Committee of the IEEE Computer Society (1983–1985)
Scientific Coordinator of the Scientific and Technological Cooperation with South America (WTZ) of the BMBF (1996–2004)
Spokesman, Vice Spokesman of the Initiativgemeinschaft Außeruniversitärer Forschungseinrichtungen (IGAFA), Berlin-Adlershof (1998–2012)
Director of the Fraunhofer Institute for Computer Architecture and Software Technology (FIRST) (2001–2012)
Chairman of the Scientific Advisory Board of the Hasso Plattner Institute (HPI), Potsdam (2001–2003)
Member of the Academic Senate of the Technische Universität Berlin (2003–2007)
Member of the Academic Council, International Council on Systems Engineering (INCOSE) (2003–2008)
Member of the Review Board for Computer Science of the Deutsche ForschungsgemeinschaftGerman Research Foundation (DFG), Bonn (2004–2011)
Member of the Steering Committee Future Emerging Technologies (FET), Project Beyond-The-Horizon (2004–2008)
Member of the Evaluation Panel for the Integrated Research Institute (IRI), Institute of Technology, Tokyo (2006–2010)
Member of the Supervisory Board of the European Center for Information and Communication Technologies (EICT – GmbH), Berlin (2006–2012)
Member of the Advisory Board for the IT-Science Center, Putbus (2006–2010)
Member of the Evaluation Panel "Informatics" of the European Research Council (ERC), Brussels, Belgium (since 2007)
Chair of the Evaluation Panel "Informatics" of the European Research Council (ERC), Brussels, Belgium (2010, 2013)
Member of the Scientific Review Group for the Physical and Engineering Sciences of the European Science Foundation (ESF), Strasbourg, France (2010–2014).
Member of the Supervisory Board of TimeKontor AG, Berlin (since 2008)
President of the Gesellschaft für Informatik e.V. (GI), Bonn (2008–2011)
Member of the Board of Trustees of the Technische Universität Berlin (2009–2014)
Member of the Steering Board of ICTLabs GmbH, German node of ICT KIC, European Institute of Technology (EIT) (2010–2012)
Member of the Board of Trustees of the Max Planck Institute for Informatics, Saarbrücken (2011–2012)
Chairman of the Supervisory Board of Leibniz-Zentrum für Informatik GmbH, Schloss Dagstuhl, Germany (since 2011)
Member of the Scientific Advisory Board of the "Embedded Systems Institute" (ESI), Eindhoven, Netherlands (since 2012)
Member of the Steering Committee of the DCAITI